Online Auction Websites and Tools
.
Auction Portal Package
Portline provides complete Visa CISA PCI compliant Auction Portal websites and Online Selling solutions. Combined with the power of BEMA (Back-End Management Application) the packages are truly complete.
The Auction Package contains everything you need if you're looking for an Auction website like eBay. Every aspect of the Auction Portal package Packages can be imported, exported or integrated with in-house or other external systems.
.
Portline sells two Auction Packages. Overlay an existing website design or purchase a new Professional Website Design.

Auction - Website: $2800
Auction Loader - eBay Integration: $3100

Overlay an existing or new Professional Website Design to the Auction Package Frameworks and you have a complete website to sell and auction products. Each Package comes with a CMS for managing website, inventory and product management with the API eBay integration with Auction Loader.
.
Portline's Auction Package is a website similiar to an eCommerce Shopping Cart site with the added Auction Feature. With an Inventory system you can easily drag inventory into Productions to create Auctions. Includes same features as eBay, Buy Now, Set Days for Auctions, Minimum Bids, Proxy Auctioning. Auctions are usually used for unique products and provides an interaction with customers that a regular shopping cart cannot.
Top Features
Professional Custom Design

Overlay an existing website or purchase a Professional Responsive Website Design.

Inventory Management

Inventory control allows for the import of all inventory from which inventory can be selected for Auctions and Buy it Now. Auctioning inventory over a period of time.

Scheduling

Schedule Auctions in advance, the system will activate an Auction at the set day and times. Create Auctions from inventory months at a time. Email notices of outbid, winning and payment reminders.

Admin

Management Portal allows for management of members, partner, promotions, site pages and promotions, orders, inventory, auctions and buy it now, reports, email configuration and reporting.
Members

Member Registration, Member Profile, Live Auctions and Order/Win History

Promotions and Events

Select Products for Homepage Featured Products, Homepage Promotions, Coming Soon, Top Deals, Recently Won.

Multiple Vendors

Include Inventory from Vendors, site will track Vendor Inventory and Sales.Feature Partner Logo Displays.

Orders

Payment Tools for Member Winning Auctions include credit card using Authorize.net and PayPal or other methods.
.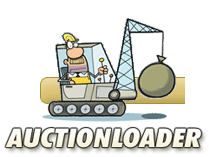 Bulk Listing tool to eBay and eBay Stores, Auction Loader has been assisting eBay sellers since 1998. Full service listing tool software. Individual Seller Quickly and easily list your items for sale on eBay.
Process images, search for correct categories and submit your items for sale on the day and time of your choosing.
Quickly and easily list your items for sale on eBay. Process images, search for correct categories and submit your items for sale on the day and time of your choosing.
Power Seller Powerful tools for the Power Sellers. Inventory management, complete listing creations using templates, scheduled listings, payment and collection management, shipping module with label and receipt printing and customer history, feedback and management features

Bulk Listing Tool developed for PowerSeller and Consignment Stores. All of the tools and features necessary for PowerSeller plus Consignor Management, flexible commission profiles, accounting features, RMA's, image libraries, check out modules with multiple store access.
Top Features
Professional Custom Design

Top Designers work with each client to create designs that are professional, amazing wguke using the latest in CSS Styling techniques.

Fast

Inventory control and Auction submissions load directly to eBay from your site with lightning speed! Keep up to date data in BEMA for customers and orders.

Robust

Auction products have been in use by our cients for over 25 years. The system is kept current with certified API connections with eBay. We constantly add more features, modules and tools.
Customizable

All packages are 100% customizable to meet unique requirements.

Advanced

Integrated with any existing website bringing Auction capability and eCommerce in one site. Also available as a Stand Alone application.

Secure

Designed to handle high volume and large auction submissions and fulfilment.